Happy Birthday Daring Cardmakers
x♥x♥x♥
Today see's the start of a brand new month of challenges over at the Daring Cardmakers and it's not just another month. The Daring Cardmakers are celebrating being 7 years old!
Wow! Can you believe it?
Yes that's right, the Daring Cardmakers team has been bringing you card making ideas and inspiration for the last seven years! That landmark needs celebrating so the team has been hard at work putting together a whole month of celebrations throughout October.
A birthday party needs presents and we're sharing them around with you so look out for prize giveaways this month from our amazing sponsors which you'll hear more about as we post each new challenge.
Parties also need guests so look out for surprise guest designers joining us through October too! We're going to have so much fun and we hope you can join us all through October.
On to this week's challenge and as it's the first week of the month as usual we've based the challenge on a colour combo and this month we want you to take inspiration from the colours is this yummy rainbow cake picture:
As we're celebrating our birthday we'd also like your cards to be birthday themed cards and as an added extra challenge if you're up to it have a go at creating a second card but making it a Christmas card or other extra project based on the ideas you used in your first card.
Each week this month we are going to have some wonderful prizes from sponsors. Our first sponsor is docrafts, and they have generously offered Poinsettia and Ribbon Bow punches to one lucky winner - even more reason to join in this week!
As if that wasn't enough, we also have a prize from The Ribbon Girl!! They are offering one lucky winner a £10 voucher to spend in their gorgeous online shop here
To be in with a chance of winning one of these lovely prizes, you just need to join in with this week's dare!
I have created two cards for this weeks dare using the beautiful Docraft punches..
I stamped the Best Wishes stamp from Woodware onto white cardstock and coloured in the word BEST using Derwent Inktense pencils from A sprinkle of imagination
.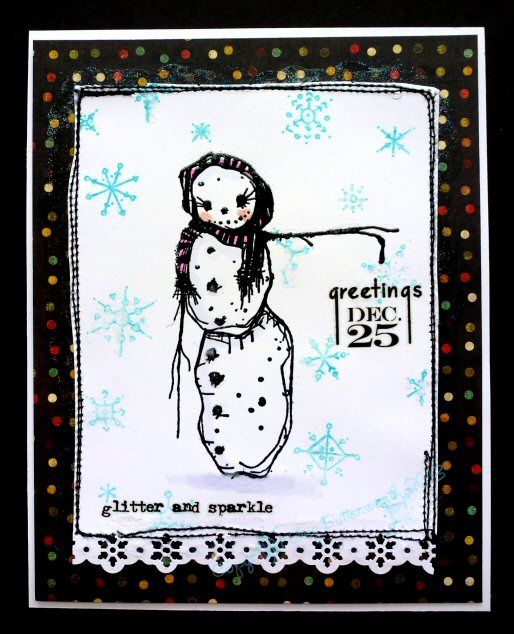 My first Christmas card of the year!! Thank you Daring Cardmakers for the nudge! ;-)
Snowy Fran was stamped and clear embossed onto white cardstock, I stamped her again onto scrap paper and cut out a mask, then I stamped Snowflakes over the top of Fran using the mask.
Glitter glue was used around the card but I'm not sure how well it shows up!
The words are some of the new remnant rubs by Tim Holtz Idea-ology
(I am sure Vicki is able to get the Christmas ones!)
Here is a close-up of the gorgeous Docraft's punch, I used quite thick cardstock and the punch cut through and left a good, clean crisp cut. I am very impressed :-)
Thank you for calling today, I hope you like my cards and you can come and join in the fun over at the Daring Cardmakers and wish them Happy Birthday!
Hope you have a lovely weekend, whatever your plans.
Happy creating, Gez oxox