It's Wednesday again! and that means it's time for a brand NEW challenge over at the Stampotique Designer's Challenge blog.
This week our lovely and talented hostess Carol Fox has got a super, awesome challenge for you.. PERFECT if you love ALL things spooky...
I particularly choose the month of October to host the challenge as I love Halloween. it was the quirky off beat stamps of Daniel Torrent that first drew me to Stampotique all those years ago, as it then seemed to me that I could make Halloween themed items all year with his gothic style stamps and no one would realise that was what I was doing. I think I may have broken the record on my make for the challenge with the most rubber stamps used on one item, but it was hard as there were just so many to choose from. Hope you all enjoy the challenge and get your spook on for the whole month. carol x"
So the Design Team, would like to see you getting spooky with your creations.. here is mine..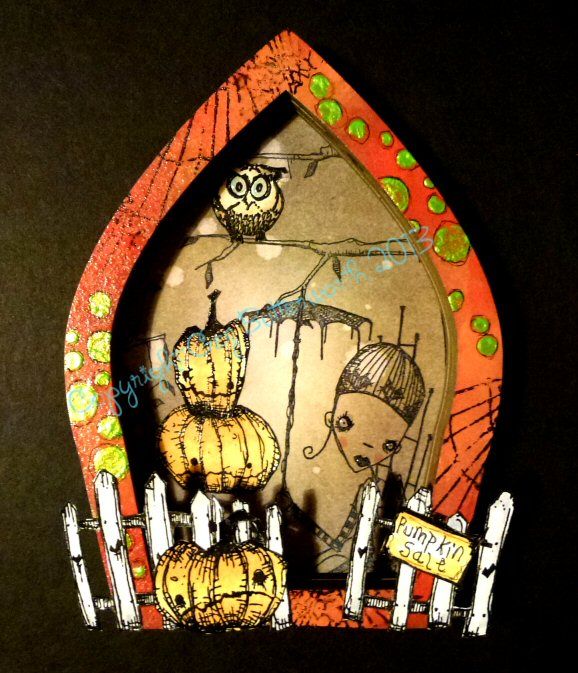 Great challenge Carol! I had so much fun decorating a Gothi Arch Layered Frame from Tando Creative.
See their website for a full list of stockists.
I used some of the gorgeous Studio paints from A sprinkle of imagination and added a layer of Goosebumps spray over the top to add some texture.. the green bubbles were added by using Liquid Pearls through a stencil.
The background was made by inking a piece of white cardstock with Distress Inks and adding a few water splats. Relaxin' was stamped straight onto the background using Archival Jet Black ink.
The pumpkins & wee owl were also coloured using Distress Inks along with Weasel's sign!
Thank you for stopping by my blog I hope you like my decorated arch. Thank you for leaving a comment if you get the chance. Don't forget to pop over to the Challenge blog to see lots more inspiration from the Design Team and to include this weeks challenge number with your creation if you play along.
Each weeks challenge is open until the end of the month and two lucky random winners will both win a $30 gift certificate to spend IN STORE so what are you waiting for... get your spook on! ;)