I'm not feeling too brill at the moment while I wait to have major surgery in a couple of weeks, I had a lovely night out last night going to see the Blackpool illuminations with my two gorgeous boys but I'm suffering today, so I'm taking it easy and to help take my mind off things I thought I'd play catch up!
Since I first heard about the new tag challenge blog Tag Along I've been wanting to play along! However, it's been so busy on the home front with helping my daughter move out to Uni, the boys returning to school and lots of DT commitments.. I have only been able to admire everyone's creations from afar!
Hope you like my catch up tag!!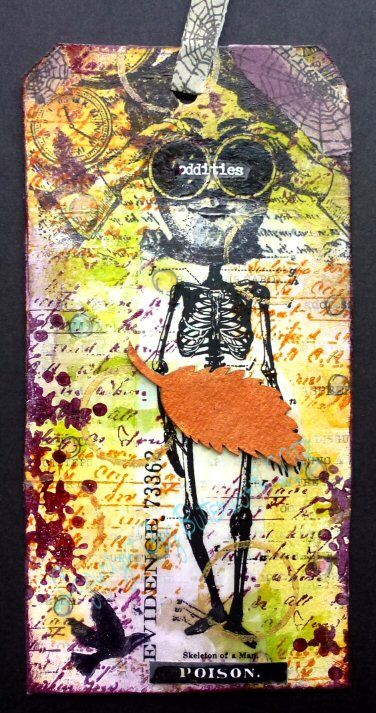 If you look carefully, you will see I've used vintage paper as the base, I've included some birds from challenge #2, hand drawn polka dots from challenge #3.
Something masculine from challenge #4, Tando leaf for the autumn glory challenge, I sprayed three leaves but couldn't decide where to stick them!!!! And a skelli, cobwebs and halloweeny colours.. for the latest challenge.
That was fun! Looking forward to the next challenge! :-))